Online Strategy Meeting: Future Directions in Product Design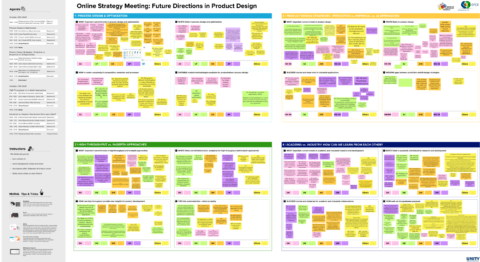 Product design is the formation, formulation, handling, manufacturing and characterization of complex multiphase products across all length scales from molecules to particles and complex materials and devices. The applications define the required product properties which cover both classical fields of process technology in the chemical industry as well as new emerging fields of electronics, energy and environmental technologies, life sciences, pharmaceutical applications, fast-moving consumer goods, materials science & engineering, nanotechnology, photonic technologies and additive manufacturing. Unifying principles of product design are widely applicable to many different kinds of products including solid, liquid and even gaseous particles. The joint venture of chemical engineering with materials science in concert with the basic sciences opens new prospects for all involved disciplines. Rigorous mathematical optimization methods based on predictive models for products, structures and processes catalyze new possibilities for true design of multiphases which is at the core of mesoscale science and technology.
On 26 and 27 October, CRC 1411 and the EFCE Section on "Product Design and Engineering" jointly organized an online strategy meeting on future directions in product design. In four sessions, the status quo of product design in different fields of application was reviewed by experts from industrial and academic perspectives. Discussions among the ~ 70 participants were supported by a MURAL board and aimed for the identification of key aspects for future studies and potential collaborations. In this way, this meeting also served as a platform to prepare for a dedicated Product Design Workshop which will take place as part of the 13th European Congress of Chemical Engineering ECCE 13.
Meeting Agenda
October 26th 2020

13:00 – 13:30

Wolfgang Peukert (FAU, Germany)

Stefan Kaufmann (Beiersdorf, Germany / EFCE)

Welcome Address

Process Design and Optimization

13:30 – 13:45

Jens Uhlemann (Bayer, Germany)

Statement 1

13:45 – 14:00

Lukas Pflug (FAU, Germany)

Statement 2

14:00 – 14:15

Christian Schäfer (DSM, Germany)

Statement 3

14:15 – 14:30

Amrit Paudel (RCPE, Graz, Austria)

Statement 4

14:30 – 15:30

All participants

Guided discussion

15:30 – 15:45

Break

Product Design Strategies – Predictive vs Empirical vs AI Approaches

15:45 – 16:00

Heike Mühlenweg & Manfred Nagel (EVONIK, Germany)

Statement 1

16:00 – 16:15

Sören Jaspers (Beiersdorf, Germany)

Statement 2

16:15 – 16:30

Jason Hattrick-Simpers (NIST, USA)

Statement 3

16:30 – 16:45

Mike Adams & Ali Sadeghioon (U Birmingham, UK / Innogence)

Statement 4

16:45 – 17:45

All participants

Guided discussion

October 27th 2020
High-Throughput vs In-depth Approaches

08:30 – 08:45

Rolf Güller (Chemspeed, Switzerland)

Statement 1

08:45 – 09:00

Doris Segets (U Duisburg-Essen, Germany)

Statement 2

09:00 – 09:15

Guido Huyberechts (FLAMAC, Belgium)

Statement 3

09:15 – 09:30

Johannes Walter (FAU, Germany)

Statement 4

09:30 – 10:30

All participants

Guided discussion

10:30 – 10:45

Coffee Break

Academia vs Industry: How to Learn from Each Other?

10:45 – 11:00

Gerhard Niederreiter (Nestlé, Switzerland)

Statement 1

11:00 – 11:15

David Bogle (University College London, UK)

Statement 2

11:15 – 11:30

Arne Hoffmann (BASF, Germany)

Statement 3

11:30 – 11:45

Gabrie Meesters (U Delft, Netherlands)

Statement 4

11:45 – 12:45

All participants

Guided discussion

12:45 – 13:00

Wolfgang Peukert (FAU, Germany)

Closing remarks