Projects
The research fields of the CRC are divided into four thematic and highly interlinked Research Areas (RAs):
RA A studies continuous processes for NP formation and their self-assembly into well-organised optically active porous structures.
RA B develops novel SPMs and processes for NP classification with respect to size, shape and surface properties.
RA C employs high-end methodologies for the multidimensional characterisation of single NPs, SPMs and particle ensembles with respect to their surfaces, diffusive transport and disperse properties including size, shape as well as porosity.
RA D provides models for particle interactions, particle transport and self-assembly. Based on a novel framework of unified balance equations, NP synthesis and their chromatographic separation will be modelled and optimised with respect to structure-property-process functions taking uncertain conditions into account.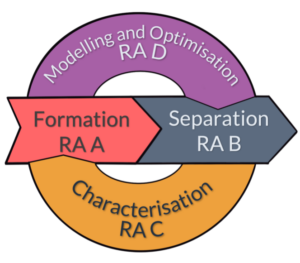 Research Area A: Formation of Functional Particles
Research Area B: Particle Chromatography
Research Area C: Comprehensive Characterisation
Research Area D: Modelling and Optimization
Central Projects