CRC 1411 International Symposium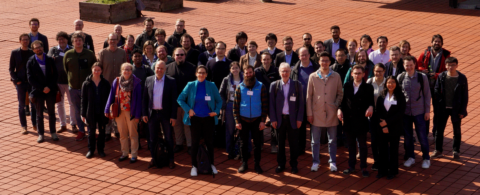 To coincide with the DFG-funded Collaborative Research Center 1411 entering its fourth year, we held a 2-day International Symposium from 20-21 March 2023. The event brought together researchers from around the world to showcase the latest progress in the targeted design of particulate products supported by rigorous optimization of structure-property and process-structure functions. Based around our four research areas, the symposium featured keynote talks by leading experts and rising stars in the field in addition to talks by CRC 1411 researchers. The programme also included a poster session, providing attendees with the opportunity to network and engage with cutting edge results from one of the hottest areas of particulate science and technology.
Programme

Download the programme flyer here

Monday 20 March

Arrival and welcome

08:00
Arrival and registration
08:45
Welcome address
Wolfgang Peukert

CRC 1411 Coordinator

Session 1: Porous materials and nanoparticle chromatography (09:00 - 12:15)

Lunch (12:15 - 13:20)

From 12:15 to 13:20 Lunch will be served in the cafeteria. Lunch vouchers will be provided.

Session 2: Functional nanoparticles (13:20 - 15:10)

Coffee break (15:10 - 15:30)

Session 3: From structure to function for optical materials (15:30 - 16:55)

Round Table Discussion - Diversity in STEM fields: Ongoing experiences with active promotion (17:00 - 18:00)

Moderators:
Ana-Sunčana Smith and Nicolas Vogel

Poster session and buffet in IZNF (from 18:00)

Tuesday 21 March

Session 4: Comprehensive characterization (09:00 - 12:35)

Lunch (12:35 - 13:45)

From 12:35 to 13:45 Lunch will be served in the cafeteria. Lunch vouchers will be provided.

Session 5: Design and optimization (13:45 - 16:55)

Close and departure (from 16:55)

The coordinator of the CRC 1411 for the proposed next funding period, Nicolas Vogel, will make some closing remarks.