Interview with CRC 1411 Equal Opportunity Fellowship holder (2020-21), Lucía Morales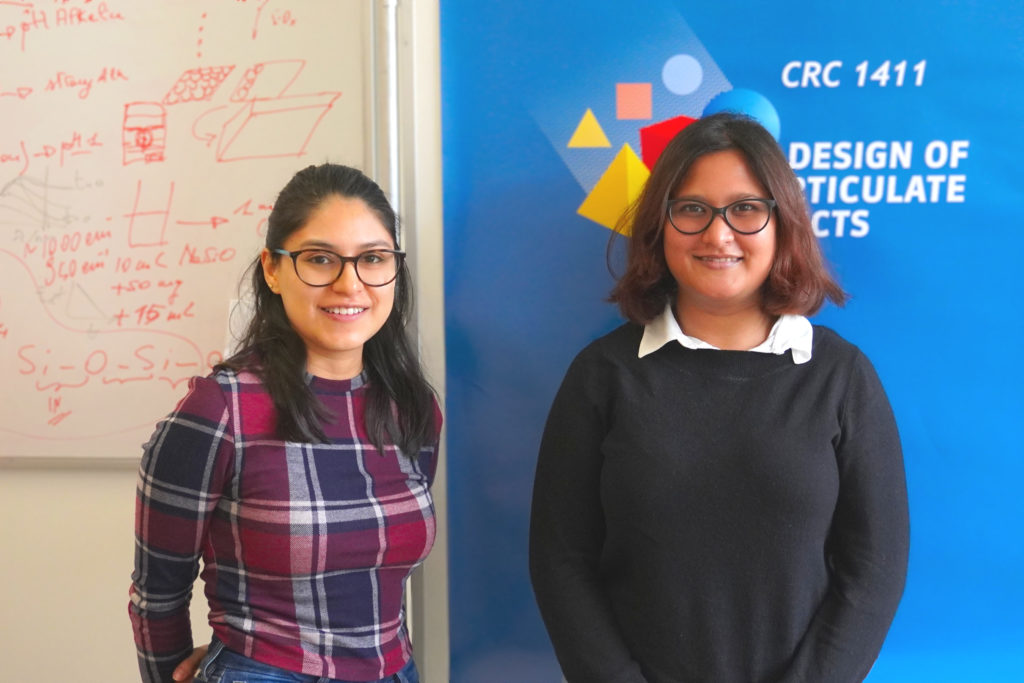 Since the Winter Semester 2020/2021, CRC 1411 has offered a one-year Equal Opportunity Fellowships to support a female students of participating FAU Master's programme. As our first fellowship-holder, Adriana Lucía Morales, has recently passed the baton to her successor, Semanti Banerjee, let's take the chance to hear about Lucía's experience so far.
CRC1411: You are enrolled as a student in the FAU Elite Master Programme in Advanced Materials and Processes (MAP). What did you study beforehand and where?
ALM: I am from Ecuador, where I studied my Bachelor's degree in Chemical Engineering at the Universidad San Francisco de Quito. In addition, I participated in a student exchange program, which allowed me to study abroad for one semester at the University of New Mexico in the USA.
CRC1411: When considering where to study for your Master's, was a university/department/course gender balance or its equal opportunities support deciding criteria for you?
ALM: Yes, I considered that gender balance was an important point to take into account. It is for this reason that the MAP Programme attracted me since it projected to have a fair environment with equal opportunities regardless gender or nationality.
CRC1411: How did you get to know about the fellowship offered by the CRC1411?
ALM: In fact, I was not aware of it at the beginning, as the fellowship was established for the first time while I was applying for the MAP Programme. Instead, I applied for the MAP fellowship, but due to my background and motivation, I became a good candidate for the new Equal Opportunity Fellowship offered by the CRC1411.  It was then that I was granted this fellowship and gained more knowledge about the branch of research done in this CRC, as well as its work in terms of gender equality in academia.
CRC1411: Did receiving an equal opportunities fellowship influence your decision to take up the offer of a place to study at FAU?
ALM: In a sense yes, but in general I really liked the University of Erlangen-Nürnberg, the city of Erlangen, and the MAP Programme. At that time, the research in which I was involved in Ecuador was very related to the topics that the MAP Programme covers. Therefore, it suited me perfectly, and without funding, I would have looked for other options to help me economically. However, I received the fellowship and this award motivated me even more to pursuit my studies at FAU. I must say that, besides the financial assistance that the fellowship offers, it is also the meaning of this fellowship that touched me, as I have always been committed to support gender equality within STEM.
CRC1411: With your fellowship, you had a chance to participate in events of the CRC 1411 integrated Research Training Group in Particle Science and Technology. What did you learn from this opportunity? How difficult was it to balance this with your studies?
ALM: From the events, I was able to experience and understand the purpose of a CRC and specially the purpose within the CRC 1411 that allow me to gain knowledge about the design of particulate products. The fact that many investigators are involved, and that they present and discuss their results as a community, help me realize how important are the collaborations and feedback in academia to solve problems encountered during any stage of research. Besides this, it helped me develop skills on presenting scientific results, preparing presentations, and to certify that any question is equally important. Nevertheless, the MAP Programme has a considerable workload that made it difficult to follow all the events, but since most of the CRC 1411 material was recorded and posted to StudON, I was able to watch it at my pace.
CRC1411: The fellowship also opened up research opportunities to you. How have you made use of these and do you think they will effect your future carrier plans?
ALM: During the last year, I was very fortunate to participate in talks organized by the CRC1411 that became easier to follow once I started covering those topics in the classes of the MAP Programme. Thus, one topic that attracted me greatly was self-assembly processes and within the laboratory of Prof. Nicolas Vogel, I have been able to learn more about this. Some materials that can developed applying self-assembly processes are self-cleaning surfaces, structural colour, catalyst supports and sensors, among others. The project that I am working on is in the synthesis of inverse supraparticles, which combines the concepts of photonic balls and inverse opals. I am not so sure what will happen in my future but indeed it has been an interesting experience to work on self-assembled materials.
CRC1411: Beyond offering fellowships, what further measures would you like a research organization like CRC 1411 to offer regarding the promotion of equal opportunities?
ALM: In my opinion, the CRC1411 motivates equal opportunities well enough. What I consider is missing and I would like to suggest is having follow-up meetings on how the fellowship holder is being integrated into the different research areas of the CRC that they might have an interest in. It is true that the page of the CRC1411 shows the different projects and professors in charge, but sometimes the contact it is not so direct.
From my specific case, the pandemic did not allow me to have real contact and sometimes zoom meetings were not the easiest environment to interact if one is new. The same goes when someone is not so aware of hierarchies, and it is not so clear how to approach professors. Therefore, I consider that interacting more with doctoral researchers will be beneficial so that lab visits can be arranged to see the research in 'real life'.
CRC1411: Your studies in Germany have been heavily affected by the Covid-19 pandemic. Do you think this has affected your ability to integrate and to get to know the language and culture?
ALM: Yes, I consider that all of us had a hard time studying or working at home since it is not the same as working in the university and exposed to real human interaction. Being able to move freely with no restrictions helps you absorb the culture, language, and allows you to participate in academic and non-academic events, going to the lab or attending conferences. However, I managed to integrate myself in Germany and although it has been somehow difficult, living here has been a very enriching experience. I am hopeful that soon things will improve, and be able to experience more German traditions, as well as to improve my German level during an internship I am planning to carry out.
CRC1411: We now have a new fellow for the academic year 2021-22, Semanti Banerjee. She is also a MAP student and you have already had a chance to her meet in person. Would you like to give her any suggestions regarding her participation in CRC 1411 or more generally for her time at FAU?
ALM: My suggestion to Semanti is to participate in the meetings as much as she can. In my case, although I attended meetings, I was very silent, but I noticed that questions are always very welcomed. Besides that, another advice is that if she is interested in a topic, I recommend talking with the corresponding doctoral researcher or the professor in charge immediately after the meetings. The final thing I would like to add is that in case of problems or need for advice, she should feel free to ask for help since she will certainly find strong support in the CRC1411 environment whether the issue is academic or non-academic.
CRC 1411: Thank you Lucía for sharing your experience with us and we wish you all the best for a successful completion of your studies!